Trading Panels
For MT4.
This trading panel can greatly simplify the work of a trader who trades in any market condition. The utility allows you to place a market or pending orders with one click. This trading panel will be the perfect tool for the trader who catches local and global trend reversals.
A trader can place any number of pending orders with a specified step from the starting point. Also, at any convenient moment, a trader can close any transactions, be it profit, loss, or all transactions
.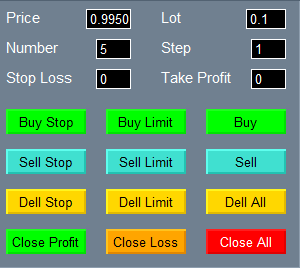 Example: We assume that the next 50 pips (500 pips), perhaps the trend will start to reverse.
In order not to sit for hours at the monitor, we use the trading panel.
We indicate the current price - 1.0713.
Specify the lot with which each deal will be opened -0.10
We indicate the number of transactions - 5
We indicate the step of transactions - 10
Type of Transaction - Sell Limit
We indicate the Take Profit and Stop Loss points for all trades, in our case we do not set them.